B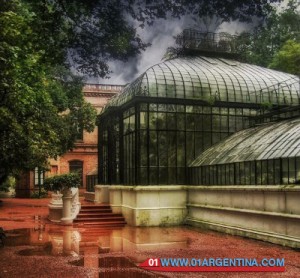 otanical gardens fulfill its main functions in science, horticulture and education.
The Carlos Thays Botanical Garden has its missions and functions in the conservation of biodiversity and environmental education in every school, college and university levels.
Retains a significant living collection of tree specimens with a larger surface area (approximately 5 acres) allocated to Argentina flora and a smaller (about 2 acres) with species from five continents.
It was declared a National Monument for its cultural and natural character in 1996 and represents a natural reservoir of enormous importance because of its urban location fully. Tasks of teacher training, applied research in flora, environmental management and, specifically, conservation of biodiversity are developed. Some of the specimens belonging to the living collections are unique in the city and, in some cases, unique in the country.
It has adhered to the principles of conservation of the International Agenda for Conservation and as an institution is in the process of revaluation of collections, staff training, computerization of its activities and to reconstruct their social image as a site of excellence in academic activities. Integrates Network Argentina Botanical Gardens, which holds the Presidency for the period 2010-2014.
Location:
The main entrance is located on Avenida Sante Fe 3951 and the Garden is open from 8:00 am until 18:00 pm. daily. Admission is free.
(Nearest Subway: Plaza Italia – Line D)
schedules
Summer Hours:
Sunday – CLOSED
Tuesday to Friday from 08.00 to 18.45 hs.
Saturdays, Sundays and holidays from 9.30 am to 18.45 pm.
Winter timetable:
Monday to Friday from 8.00 to 18.00.
Saturdays, Sundays and holidays from 9.30 to 18.00.
On: January 1, Good Friday, May 1, September 21 and December 25 the Garden is closed.
It informs the visiting public in the days of inclement weather (high winds, rain, persistent drizzle) the garden will be closed for safety reasons.
We apologize for any inconvenience this may cause you.
Sightseeing Tours 2014
Saturdays, Sundays and Holidays 10:30 am and 15:00 pm.
No registration required
FACT
The opossum, Didelphis albiventris part of our native wildlife and are in the grounds of the Botanical Garden since before its formation. They are omnivores, they can eat roots, fruits, seeds, worms, eggs and other smaller animals (below them in the food chain). They live between 1 and 2 years, with two annual offspring.
No attack humans or larger animals, as they cats. Moreover, sharing food dishes, often simultaneously.
While not as if predators have happen in the wild, there are other factors that limit population growth potential (urban environmental conditions significantly limit their growth). These nocturnal animals are affected by the large amount of light we have in the city at night, it makes no walk circulating in the city as in the case of rodents in the garden and find a place of shelter.
There is no record of attacks from these animals. They are only aggressive if they assaulted the (natural reaction in any animal).
The environmental policy is based on the conservation of the biodiversity. In the Botanical Garden of the population censuses of opossum as a form of practical work being conducted by the Department of Populations Race Biological Faculty of Natural Sciences, University of Buenos Aires Sciences are performed annually. Observed in the case of overcrowding, it will seek to withdraw an appropriate percentage of individuals.
By the above, we do not consider necessary or eradication or a fight against them whatsoever.
A garden with
history
–
Artworks
A garden enclosed history is elapsed time in their spaces. His artistic wealth speaks of other times and the present, and man's relationship with nature, art and landscape.
Names artwork: Purity Flora Argentina, Perito Moreno Bust, Saturnalia, India Prayer Tehuelche, Bust of Saint Martin, Ondina del Plata, The First Cold, La Romana wolf
Song of the Harvesters, Aeschines, Bust of Carlos Thays, L'Aquaiolo, Venus, Mercury's Message, Decorative Fountain, Column Meteorological, Bather, Sagunto, Amazona, The Flora, The Sovereignty, The Beethoven 6th Symphony, The Awakening Nature, Indian Flower
The
Garden:
their collections
The garden covers more than 7 hectares, and brings a great diversity of species, organized along the lines devised by its creator Carlos Thays.
A sector comprising copies in its most organized by geographical origin, with species from Asia, Africa, Oceania, Europe and America respectively, highlighting the area flora of the Argentine provinces, for its wealth and importance.
Another area called systematic botany specimens per family groups according to the classification used Engler in his "SYLLABUS Pflanzen DER–FAMILIEN" 1954 for Pteridophytes and Gymnosperms and Angiosperms for 1964.
They are also exemplified the three types of landscape design: symmetrical, mixed and quaint. It has 2 gardens style: French and Italian.
On your way there are 5 greenhouses, where species with specific environmental requirements are located: propagation, multiplication, for cacti and succulents and large main greenhouse, with a collection of tropical and subtropical species.
This hothouse "art nouveau" was brought in 1900 from France. Represents an excellent example of the use of iron and glass constructions beginning of the century.