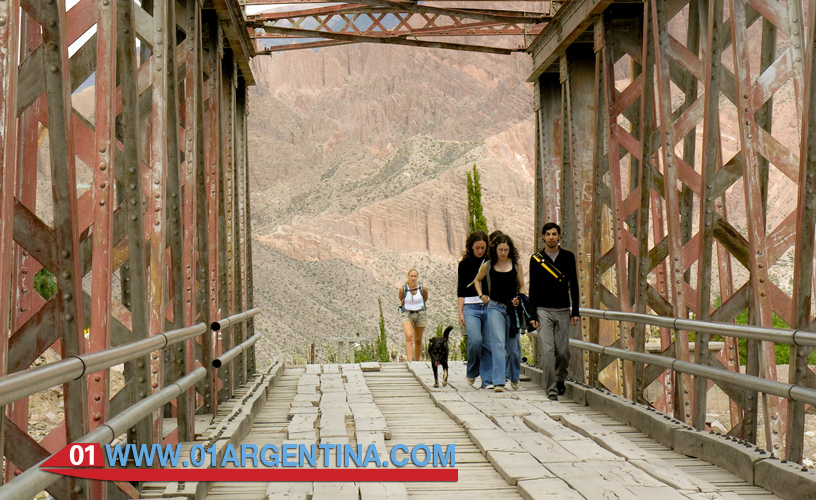 This town of low adobe buildings with steep streets offers the visitor all the sumptuousness of quebradeño landscape is adorned by live cultural activity of its inhabitants.
Considered the Archaeological Capital of Jujuy, has the Museum of Tilcara Interdisciplinary Institute, is considered as one of the most important specialty.
A few kilometers from the center of the region can learn a Pucara – "fortress" – built by the original inhabitants of the Quebrada de Humahuaca on both polychromatic hillocks. Excursions in 4 x 4 to Cerro Morado Jujuy, trekking, mountain biking, horseback riding and even sand boarding in the surrounding dunes, are some of the activities that can be developed in the region.
Tilcara also has a Museum of Painting, Sculpture a Museum and a Museum of Carnival, where tourists can find typical characters and own ceremonies.
Traditional Festivals Calendar is one of the most interesting tourist attractions of Tilcara, as it has acts that arouse the enthusiasm of the visitors. At Easter the preparation of the Chapels is performed. In addition, the Popular Party Tilcareño, Chicha, of the Wife or Pachamama and Carnival during the summer, make the city a place to visit all year round.
Typical meals in TILCARA, northwest Argentina
In Tilcara tourists and strolling along this tourist village can see and meet with inns, lodges and restaurants of regional architecture that were built using local materials: adobe, stone, stumps, cane ceilings inside and decorated with native elements. thus achieving very welcoming places that stimulate the senses by different colors, textures and sounds.
In restaurants, favorite dishes and more orders by tourists are meals with llama meat, like tenderloin grilled calls costing, very rich and highly recommended.
Each place has its own charm and appeal that blends with the flavors and aromas from the food, the fruit of their culture. Thus, the typical foods of Northwest Argentina are prepared with recipes that passed from generation to generation, since the time those where each region had only locally produced foods and those that could be achieved thanks to "barter" with citizens other nearby areas with different climates.
Many foods and way of preparation became less important during the conquest, were even despised, banned and eradicated violently customs as the case of Amaranth and Quinoa, called "meat substitute" and now beginning to be cultivated and used in developed countries due to its high nutritional value.
We do not forget that the European power changed with the introduction of valuable American species such as potatoes, corn, squash, cacao, coffee. Today also the basis of our diet consists of beef, lamb, llama, pig, goat and chicken with abundant seasonings like pepper, cumin and paprika among others.
In markets Tilcara you can get mote, potato flour, dried meat and chalona and all different regional dishes to stand are prepared: empanadas, tamales, tamales, locro, spicy belly guajchalocro, frangollo, chanfaina, the roast flame, charquisillo and Guatia.
Also worth mentioning artisanal goat cheeses made following old recipes and traditional quesillo of the town of San Antonio, which has a reputation and prestige for its ancestral form of preparation. Nothing better than to enjoy a good regional cheese with Jujuy handcrafted wines.