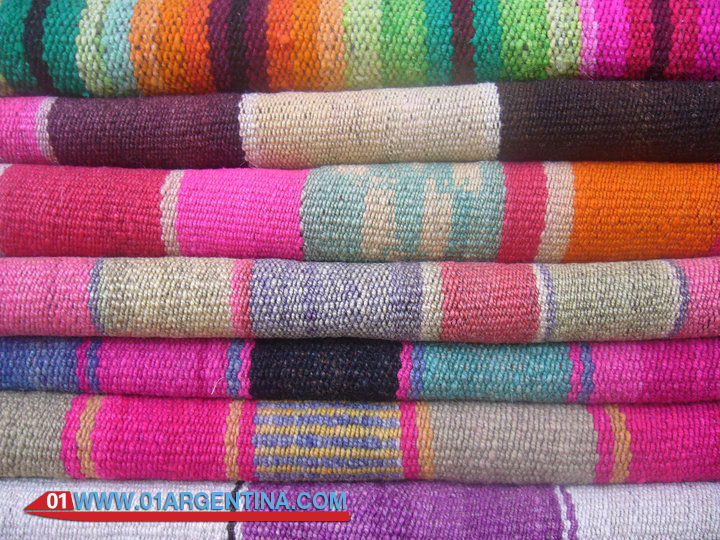 Salta province is distinguished by the diversity of its cultural heritage. Painting, music, poetry, jewelry, several highlights of an area rich with artistic gifts, which will not wilt and continually restore their variety, charm and appeal.
In the Valley Calchaquí you are one of the most important traditions in Creole loom in the country and the town of El Colte stands out as a center of expertise in making ponchos. especially barracanes and picotes, delicate fabrics that are made in pieces of ten to fifteen meters currently weave.
They are high value jobs are made with very fine thread worked by hand and are sued for suits, vests, jackets and bags, among others. The designs are usually related to the landscapes are with regional motifs; rock, inspired by the rich art of indigenous and Inca cultures, with motifs of archaeological iconography.
In Colte we dazzle the old farms made of adobe and thatched roofs, a material also used in pens and survivors churches a while tolerating forgotten. If we continue walking we see colorful fabrics, ponchos, all these very attractive.
Llamas, sheep and vicuna wool vest, raw material of his work. Eduardo made blankets, carpets, ponchos, fabrics like picote and barracán, belts and handbags. Like almost seventy percent of the active artisans lives exclusively from his work, which is its main source of income. A typical poncho salteño consuming fifteen to twenty days, with an amplitude of approximately twenty ponchos production year.
Carpets can take up to eighteen, depending on their size. Tapestries seventy three feet, require up to five days of tissue.
Road of the Artisans in Valles Calchaquíes (Pcia. Salta)
It is the section of National Route 40 between Payogasta and Angastaco, are about 120 km, where a few families offer their crafts in fabrics, stones, metals, leather, wine, agricultural products, etc. You can leave Salta Capital, transit by provincial route 33 to Payogasta, and thence southward to visit the villages Angastaco.- artisans are willing to serve the traveler with a smile and explicaciones.- can see objects made of cactus, own the place, and highlights work in wool for making traditional poncho salteño.- the stanchions artisans predominate in parallel to route 40 street between Colte and Seclantás, which is a collection of houses and shops roofed adobe paja.- to make tapestries, sashes and ponchos sheep wool is used, llama and vicuna, requiring about 15 days for the manufacture of a wide range poncho.- the nuts and seasonings presents great quality.-
Craft market
This market is located in a beautiful mansion west of the city, boosting its structure thick adobe walls whitewashed in an area at the base of a gentle undulations that are known by the name of Lomas de Medeiro.
These lands are closely linked to the history of our city. The chronicles say that there ran the first mill Salta, around 1583, the main source of work of the City, so the farm had the name of Alto Molino.
He was later seat of the Jesuits until 1760, and later housed the first salteña tannery.
Currently it works as a market handicrafts produced in the region, offering a variety of products such as basketry, weaving, pottery, works in silver, iron, leather, sweets and wines of the Province among others. You can find artisans who come from different regions of the province to exhibit and sell their work.
It is advisable to visit not only for the variety of its products, but because they have a Certificate of Authenticity that guarantees the quality and origin.
Address:
Av. San Martin 2555
TEL: (0387) 434-2808
Schedule:
Monday to Sunday from 9:00 to 21:00 pm.
Tourist Corridor Artisans Walk (Balcarce Street Fair)
Declared a Cultural and Tourist City in 2007, is considered the most important fair of northern Argentina Handicrafts, through which more than 6,000 pedestrians pass every weekend. In her unique craft products that make the tradition and culture of our peoples they are offered.
In this corridor can be found crafts in the areas of Baby accessories, Aeromodel, Alpaca, Handcrafts several, Asta, Punts wood, Batix, Bojouterie (silver, alpaca, etc.), Bulbs, Embroidery, Wallets, pottery, basketry, Paintings, Knives, Leather, sweets, flowers chala, musical instruments, books, Macrame, Wood Crafts, Dolls, Onyx, Stones, paintings, plants, Silverware, Regional Products, Incense, Seeds, Tapestries, fabrics, Glass, Wine, vitreaux.
The fair spans:
– Calle Balcarce 700 to 900 (between Av Entre Rios and Ameghino.)
– Calle Ameghino 600 to 700 (between Balcarce and February 20, opposite the Central Railway Station).