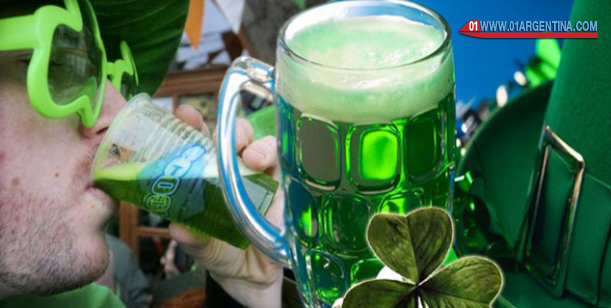 On Monday 16 and Tuesday March 17 celebration will be felt in Buenos Aires. Saint Patrick is the patron saint of Ireland, the Irish and their descendants scattered around the world. In Argentina there is an Irish community of over 500,000 people. Do not miss the free festivities in various parts of the city and the best parties in bars with live bands and promotions!
Beers, Irish food and green clothing in honor of St. Patrick
This evening will begin the celebrations commemorating the patron saint of Ireland; the typical drink in his craft and colored version, will be the big draw in locals pubs
Why is Celebrating St. Patrick's Day?
The St. Patrick's Day is celebrated annually on 17 March to commemorate the death of Saint Patrick (c. 386-17 March 493 or c. 460), patron saint of Ireland. It is a national holiday in the Republic of Ireland and a party by custom and unofficial in Northern Ireland. Today, St. Patrick's Day is probably the most widely celebrated saints in the world.
The St. Patrick's Day is celebrated worldwide for all Irish and even people who have no Irish ancestry. The celebration usually is subject everything is green and Irish; Christians and non-Christians celebrate the feast regularly dressing in green, enjoying the Irish gastronomy which includes alcohol and Irish drinks, and attending parades. Some establishments sell beer dyed green for the holiday.
Plaza San Martin on Monday March 16
From the 14, San Martín Square will be a special meeting whose only motto is to wear something green, attendees can enjoy a variety of food and crafts booths, dance shows and traditional Irish music. And since 1730, the seventh annual St. Patrick's parade, which begins at the intersection of Arroyo and Suipacha streets before ending in the same plaza San Martín. All activity will be free.
* Guide Bars to celebrate on Tuesday March 17: Prices and specials
From 18. In the city of Buenos Aires, more than 20 bars announced special celebrations, which will also be given a lesser extent in locations around the country, mainly in the provinces of Buenos Aires, Santa Fe , Cordoba, Mendoza, Tucumán and Black River.
On Tuesday, probably the largest concentration of celebrations will, as has happened in recent years, the Irish pubs located in the Reconquista, Marcelo T. de Alvear and Sarmiento streets, the Retiro. There, thousands of attendees will enjoy a wide range that includes pipers and end late at night with lots of beer consumed.
The Temple Bar
In times happy hour two pints -measured equivalent to half liter of beer each- will be worth $ 70, while the same measure of black craft beer will cost $ 100.
The Beer House Experience, All-including food- products offered are made with beer. It is located in the neighborhood of San Telmo and holds 45-50 people, will offer the opportunity to see live how green beer that will be taking is made, the color come from a dye 100% natural, such as algae.
Bar Antares, Las Cañitas
On this special day will be special dishes typical Irish food, raffles, games, pipers and even elves distributed -actually gold coins, these coins will be Dorado- chocolate wrapper ". With capacity for 200 people, Pérez Rojas projected to sell a total of 500 liters of craft beer that night. Each liter during happy hour will be worth $ 51.
Bar Dubliners
This bar also will be celebrating its anniversary beer will be worth $ 50, while the craft and Negra- -Red cost $ 70.