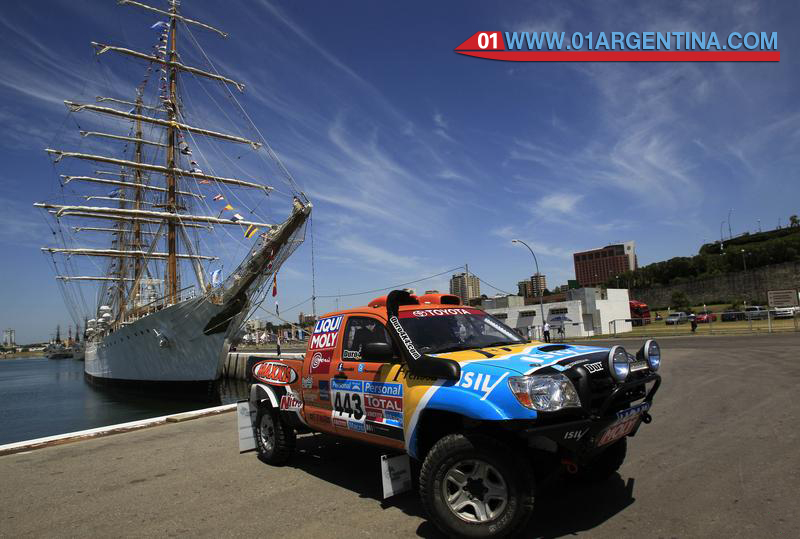 The Dakar Rally Argentina-Chile-Bolivia 2015, will start next January 3 from Plaza de Mayo in Buenos Aires. 10 and 11 are rest days in Iquique, Chile, then transit through Bolivia, ending January 17 at Technopolis, province of Buenos Aires. In the city of Baradero the first and last step speed run.
The start of the 37th edition of the Dakar will be in the Plaza de Mayo in front of the Casa Rosada, then continue their journey to the city of Baradero, Buenos Aires, Villa Carlos Paz, Córdoba; San Juan in San Juan; Chilecito, La Rioja, crossing to Chile through the Paso de San Francisco in Catamarca. On his return to Argentina by the Paso de Jama in Jujuy, will cross the city of Salta, and in this new edition of the Dakar, the city of Termas de Río Hondo is incorporated in Santiago del Estero, then, in its final stage, Rosario will again receive competitors, to finish the competition again in Buenos Aires city of Baradero and podium finish at the premises of Science and Technology "Technopolis" in Villa Martelli, Buenos Aires.
The Dakar race competitors and their vehicles in terms of extreme resistance. And in the context of the marathon stage, where riders can not benefi t from their assistance teams, particularly they test your ability to work autonomously mechanics. This year cars and trucks, which since the 2005 edition had not been confronted in this exercise should grasp this diffi culty further.
With starts spread over two days, a marathon stage leads to the competitors to spend the night in a lonely bivouac. The vehicles are brought to a closed park, where only assistance between competitors is authorized. Besides the technical challenge of this imposition, pilots also live a different experience of conviviality. In Uyuni, are first baggage cars must pass a separate night and the next day, motorbikes and quads. The truck category will have a fully booked bivouac in the desert of Atacama.
To enable the organization of stages marathon, was launched an unprecedented device amid the prolonged stay in Iquique. Thus, the January 11, there will be three races in three different routes, and in two countries. This device also needed to implement a new idea: a day of rest for outdated motorcycles and quads.
Tour Dakar Rally Argentina-Chile-Bolivia 2015
3 \ 1: Largada Symbolic (Plaza de Mayo).
4 \ 1: Stage 1, Buenos Aires-Villa Carlos Paz.
5 \ 1: Stage 2, Villa Carlos Paz-San Juan.
6 \ 1: Stage 3, San Juan -Chilecito.
7 \ 1: Stage 4, Chilecito-Copiapo.
8 \ 1: Stage 5, Antofagasta Copiapó.
9 \ 1: Stage 6, Antofagasta-Iquique.
10 \ 1: Break the cars and trucks.
10 \ 1: Stage 7, Motorcycles-ATVs, Iquique-Uyuni.
11 \ 1: Stage 7, Cars and Trucks, Iquique-Uyuni.
11 \ 1: Stage 8, Motorcycles and ATVs, Uyuni-Iquique.
12 \ 1: Autos & Quad Stage 8, Uyuni-Iquique
12 \ 1: Motorcycles and ATVs rest.
13 \ 1: Stage 9, Iquique-Calama.
14 \ 1: Step 10, Calama-Salta.
15 \ 1: Step 11, Salta-Termas de Río Hondo.
16 \ 1: Stage 12, Termas de Río Hondo-Rosario
17 \ 1: Stage 13, Rosario-Buenos Aires