Things to do in Mendoza
City oasis, Mendoza is located at the foot of the Andes Mountains, attracting tourists from the most diverse backgrounds to its tempting and varied proposals. Characteristically clean, countryside and culture, the capital city of Mendoza managed to overcome his natural aridity becoming an attractive tourist destination.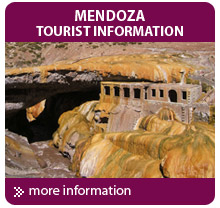 An irrigation system, consisting of a network of ditches of 500kms runs through the urban layout of Mendoza possible the existence of huge trees that fill squares of green throughout. The Plaza Independencia, the main lung of the city designed after the earthquake of 1861, and four equidistant places, relaxing form a circuit through which local history emerges. Vegetation, water fountains, monuments, museums, outdoor theaters, craft fairs and a great social movement, the Mendoza life goes between each square.
Conditioned with all the amenities of the big cities of the world, a large commercial and recreational proposal, and a great deal on lodging and dining, this capital city has recreational areas for all preferences, among which are casinos, nightclubs, theaters, museums, cinemas, win bars, pubs, and places of cultural and artistic activity. Wineries and vineyards complete the circuit incorporating the wine route tour in which visitors can learn about the history and evolution of this delicious drink and taste their delicious varieties.
Other attractions in Mendoza
Mendoza works also as a starting point in the adventure travel itinerary offering awakening many circuits where adrenaline with trekking, rafting and hiking, among other activities challenging. Photo safaris in magnificent scenery, walks through snowy mountains, incredible views, perfect without fully exhausting the supply far.

With a pleasant climate, with mild and moderate rainfall, the territory Mendoza allows passengers to enjoy both sunny summers and winters snow covered, using the various alternatives that make it cozy and fun in any of the seasons: mirrors water, rivers, nature reserves, spas, ski resorts, are just some of them.
Freshness of green, snowy peaks, clear skies and the best recreational options, Mendoza waits for moments that will never forget incomparable.